SKIN CANCER EVALUATION AND MANAGEMENT
Dr. Tripp performs full skin examinations and detects and treats precancers and all varieties of cutaneous malignancies, including melanoma, basal cell carcinoma, and squamous cell carcinoma.
SUPERFICIAL RADIATION THERAPY FOR SKIN CANCER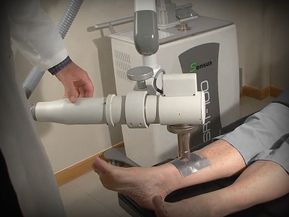 The SRT 100+ is a Superficial Radiation Therapy (SRT) device from Sensus Healthcare that allows Dr. Tripp to offer a non-invasive treatment for non-melanoma skin cancers (NMSCs) such as basal cell or squamous cell cancers. The SRT 100+ is a state of the art device that delivers a small precise calibrated skin-deep dose of localized radiation over the course of a number of sessions. It has a 98% success rate for NMSCs. With SRT, patients experience no down-time, no pain, no wound care, and no cutting or stitching. There is less risk of infection and no need for reconstructive plastic surgery to repair surgical scars.
The SRT 100+ can be used to treat cancers on the arms, legs, back and trunk. It works especially well on skin cancers located on the head and neck, especially along the folds of the nose, eyebrows, lips, corner of the mouth and the lining of the ear.
While Mohs surgery is an excellent treatment choice for many patients, SRT is another wonderful option for people who have coexisting conditions that make them poor surgical candidates, or simply for those who don't want to go through surgery.
PHOTODYNAMIC THERAPY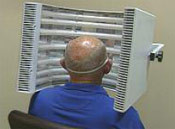 Dr. Tripp has a BLU-U photodynamic therapy device in the office that uses Levulan, a topical photosensitizer, coupled with blue light to treat large areas of sun-damaged and precancerous skin.
GENERAL DERMATOLOGY
Dr. Tripp has extensive experience in all aspects of general dermatology. In-office diagnostic tests performed by Dr. Tripp include shave, punch and excisional biopsies, potassium hydroxide microscopy for skin fungus, Wood's lamp examination for pigmentation disorders, mineral oil microscopy for scabies and T.R.U.E. Test for allergic contact dermatitis. 
EPILUMINESCENCE MICROSCOPY

Also known as dermoscopy or dermatoscopy, this device allows visualization of structures and patterns located beneath the superficial layer of the skin, resulting in more accurate diagnoses. Click HERE to learn more about Dr. Tripp's experience in this field.