SKIN CANCER EVALUATION AND MANAGEMENT
Dr. Tripp performs full skin examinations and detects and treats precancers and all varieties of cutaneous malignancies, including melanoma, basal cell carcinoma, and squamous cell carcinoma.
PHOTODYNAMIC THERAPY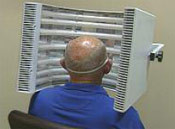 Dr. Tripp has a BLU-U photodynamic therapy device in the office that uses Levulan, a topical photosensitizer, coupled with blue light to treat large areas of sun-damaged and precancerous skin.
GENERAL DERMATOLOGY
Dr. Tripp has extensive experience in all aspects of general dermatology. In-office diagnostic tests performed by Dr. Tripp include shave, punch and excisional biopsies, potassium hydroxide microscopy for skin fungus, Wood's lamp examination for pigmentation disorders, mineral oil microscopy for scabies and T.R.U.E. Test for allergic contact dermatitis. 
EPILUMINESCENCE MICROSCOPY

Also known as dermoscopy or dermatoscopy, this device allows visualization of structures and patterns located beneath the superficial layer of the skin, resulting in more accurate diagnoses. Click HERE to learn more about Dr. Tripp's experience in this field.